As of WPML 4.3, WPML uses MO files to deliver String Translation without loading the database. For this to work, WPML needs to be able to write to the languages folder whenever you translate strings.
If you are seeing a message that tells you that WPML cannot write MO files, 99% of the time it's a file permission problem. WPML is attempting to write to the languages folder in WordPress, but that folder is not accessible.
Please note: this article is only related to
String Translation
. Translations of pages and posts are stored in your site's database. Read more about
WPML's table structure
.
Granting write permission on your localhost
If you are developing locally, it's easy to change the write permission of folders in the WordPress directory. You don't need to open all paths for writing. Navigate to your WordPress installation, and then make the wp-content/languages folder writable.
Requesting your hosting company to grant write permission
Most hosting companies don't allow you to modify the write permission for folders. If you are using a shared host or are using a managed host, you will need to request help to open this directory for writing.
Please note that you are asking to open a very safe folder. This is the same folder where WordPress itself stores MO files that it downloads for you. WPML's error message will give the full path of the folder that needs changing. Please copy/paste that path and ask your hosting company to make it writable, so that WPML can save its MO files.
Using an older version of WPML that doesn't require this write permission
If you cannot get the languages folder to be writable, you can always revert to the previous version of WPML, before 4.3.0.
To do this, log into your WPML account and click on Downloads.
Next to each download, there's an info icon that allows you to access previous versions of WPML and its components.


Download the last version before WPML 4.3.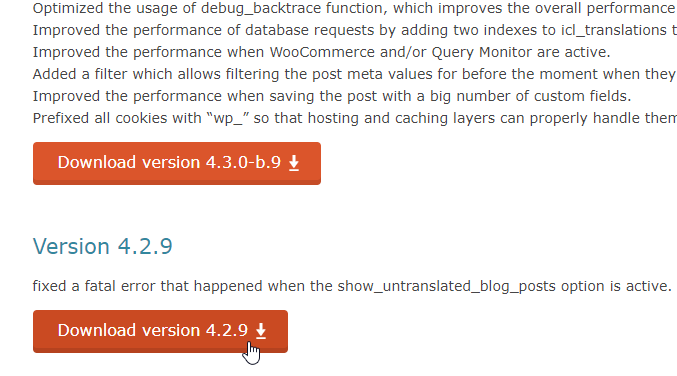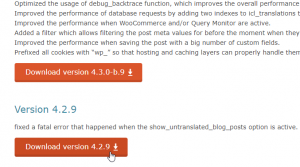 You will also need to download the pre-4.3 versions of all other WPML components that your site is using.
| WPML component | Last version before WPML 4.3 |
| --- | --- |
| WPML core | 4.2.9 |
| String Translation | 2.10.7 |
| Translation Management | 2.8.8 |
| Media Translation | 2.5.3 |
| WooCommerce Multilingual | 4.6.7 |